How to Assemble Dog Kennel- Assemble Tips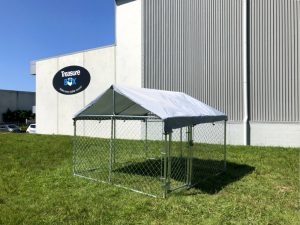 Our team has been waited sooo lonnnng for this day – to actually assemble a BINGO Dog Run and to see how it is.
We have been getting quite a bit enquiries on assembly or on the parts and details, but it made it difficult sometimes for our team not being able to go and check on one whenever we need to. Now we finally got a chance to! Yay!
I have been observing the 'construction' progress and wooo that was something amazing to me, given I am seriously bad at DIYs myself.
So by thinking about there might be others like me out there, wanting to get one of these handy runs but just anxious about installations, I think I might be able to help a little by pointing out some tips.
1. Start with base -> Support vertical poles -> Complete frame -> Netting

Building on the frame would be rather straight forward and I think the hardest part at this point, is the 'adjusting' part as you see there are many adjustable points such as how much gap you wish to leave by adjusting the height of gate; and where exactly do you need your auto lock to be installed.
2. Expanding & tidying chain link mesh
It's not a surprise the mesh comes in separate roll and this would be the step when things could go wrong from the stories I've heard from our Customer Services Team. It is important to have extreme patience at this step – and believe it or not, this would be the best advise! I got driven mad just by watching this process on the side you see!
Just remember, take it really slow and gentle, do NOT ever apply force or to pull the mesh. Otherwise you will definitely end up with tangled mess and those chained grids change their shapes and no longer being squary – and you are going to spend much more time on fixing it.
Then I talked to my colleague about this, and he said if you have experience in these by working with mesh before then most likely you'll be fine, because ALL chain link mesh works like this.
I am going to share maybe a few videos once we have them available on our Youtube link to show you on some common problems you may overcome while working with these chain link mesh.
3.  Go into details
This is when you have most of the structure completed and it is now time to work on details including gate locks final adjustments and mesh adjustments.
I've pointed out a few points on below image: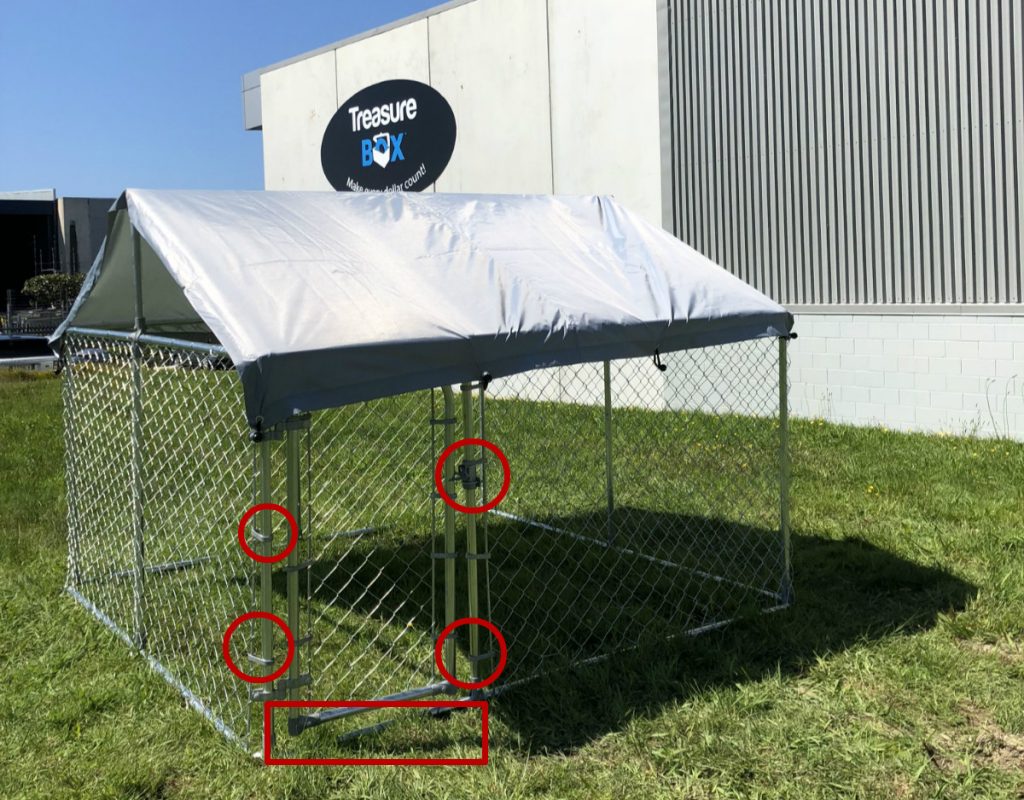 The round circled area represents hooks and lock. The bottom rectangular area is the part where you could decide how much gap you want to leave.
Locks are just about where do you want it to be and work on height.
Chain link adjustments on the other hand would be a bit more challenging – you need a hand to help you on pulling the whole sheet of mesh so they are nice and tight. This is a step where you might thought: Oh no! It is not long enough to cover the whole frame.
Think twice, because we've found this is most likely due to your mesh wasn't pulled further and tight enough. At the end, use the hooks supplied and set the mesh into places.
Use the metal ties to fix both top and bottom of mesh onto the Dog Run frame. Tip: Try to leave the ties facing outwards not inwards where your pet might accidentally getting hurt by the ties.
4. Roof frame installation
Well if your model doesn't come with a roof then you are pretty much done now. Otherwise follow the steps and get the roof installed.

The only tip at this step is to install pole 7+8 first and adjust pole 5+6 and yes it is a 2-men job.
5. Canopy tarp
We put on the tarp as advised from the instructions but just for the heads up it wasn't enough.
I am going to briefly explain dog kennel roof assembly as we didn't realise this tip until 2 weeks later.
Anyways!!! YAY! If you are interested and wanting to check Bingo Dog Run out before placing your order – pop in to see TreasureBox as you could do both on site now!