Terracotta Warriors….As Your Home Furniture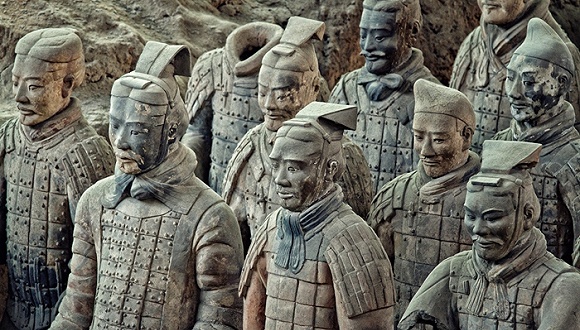 Happy New Year 2019!!! I hope you all had a wonderful holidays, got to go somewhere and had lots of laughter.
This summer, Te Papa museum has an very interesting exhibition:
Terracotta Warriors: Guardians of Immortality
Here's brief info about it:
This landmark exhibition features eight warriors standing 180 centimetres tall, and two full-size horses from the famous terracotta army – as well as two half-size replica bronze horse-drawn chariots.

Also on display are more than 160 exquisite works of ancient Chinese art made from gold, jade, and bronze. The works date from the Western Zhou to the Han dynasties (1046 BCE – 220 CE), and were found in imperial tombs in and around China's ancient capital, Xi'an.
While you might be familiar of what terracotta is but you would have NO IDEA on what it is like when they happen to be in your room and even became part of your bedroom furniture!
There was a hotel review being posted online recently where a traveler went to Xi'an China and happened to stayed in terracotta themed hotel.
HAHAHAHA! Seriously?! You won't believe this and I hope you don't laugh too hard about his experience:
---
The moment you turn on the light, this is what you see, they all stares at you….to welcome you….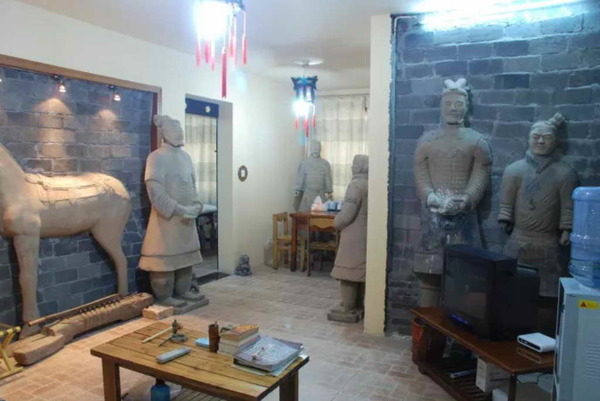 to……welcome you….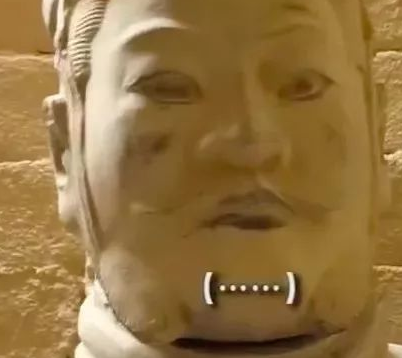 Enter the bedroom….to find four warriors staring at you right next to your bed.  Now you may never feel such wide awake before…..
"How was your sleep dude."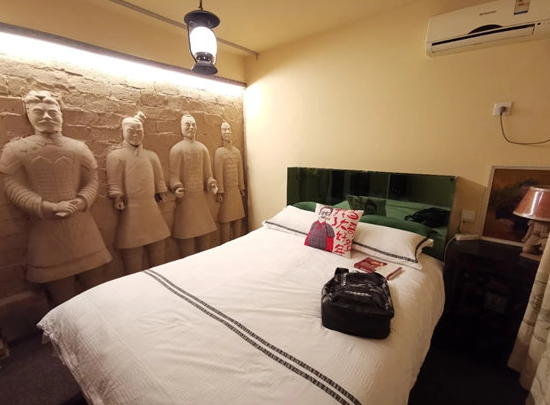 The other room had five of terracotta warriors right above your head, yea…you kinda have them as your headboard.
"Go head and sleep tight, we will be guarding you!"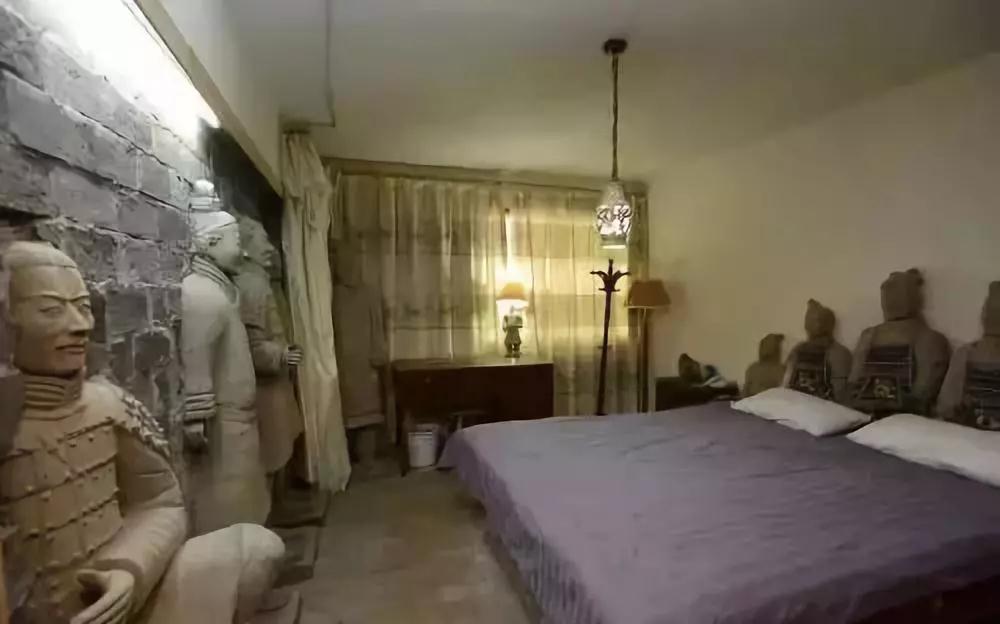 Or even better – your bed could be sitting on top of tens of these little terracotta…..and they don't seem to have hands…
"Sweet dreams!"
Would you be happy to take the flower?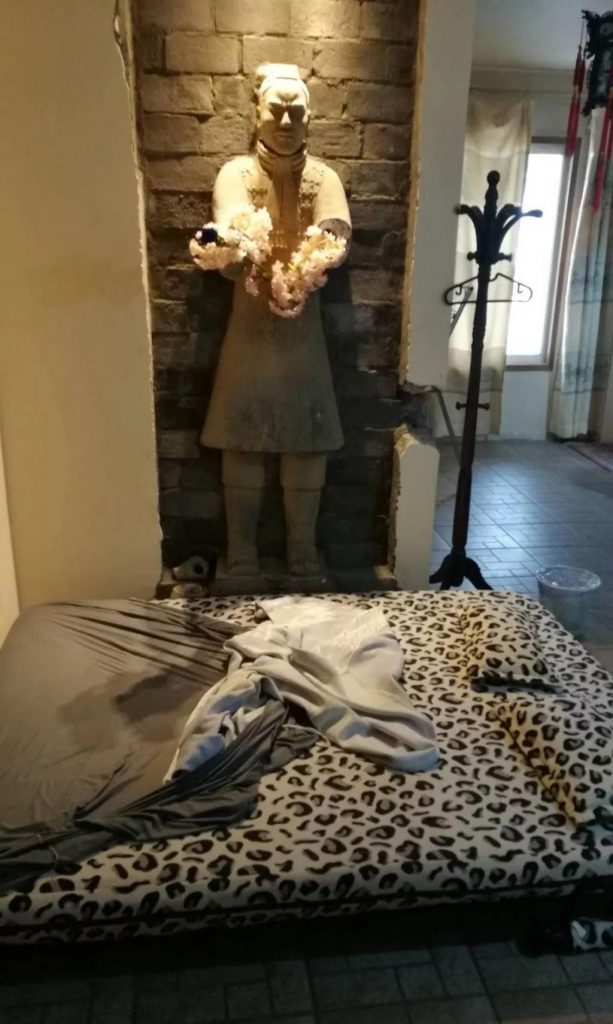 Or you may not mind how they just show up like this…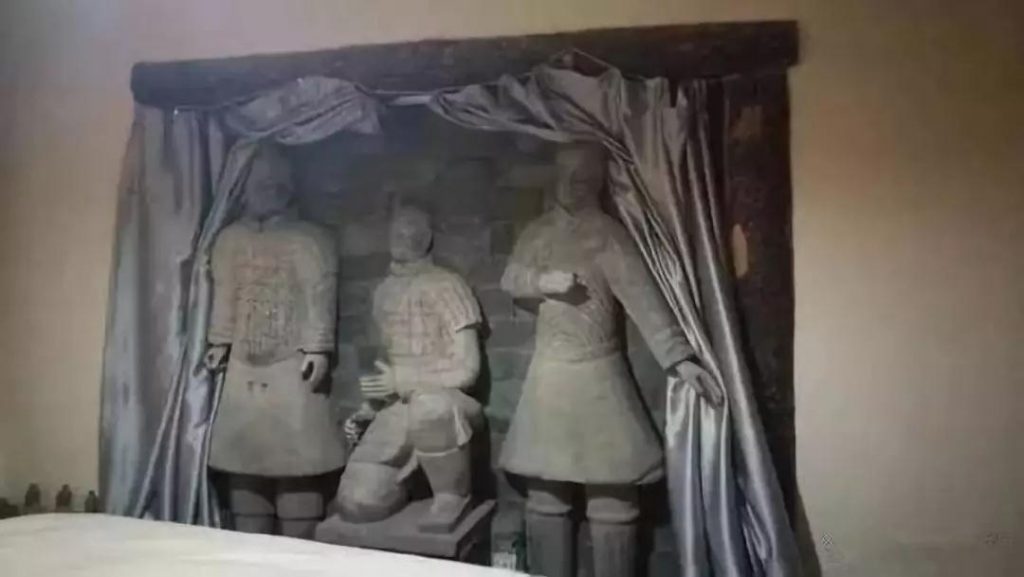 Look around you and find yourself in need of turning the bedside lamp on, only to discover woah! A terracotta warrior on its knee and the lamp….seemed to be its helmet.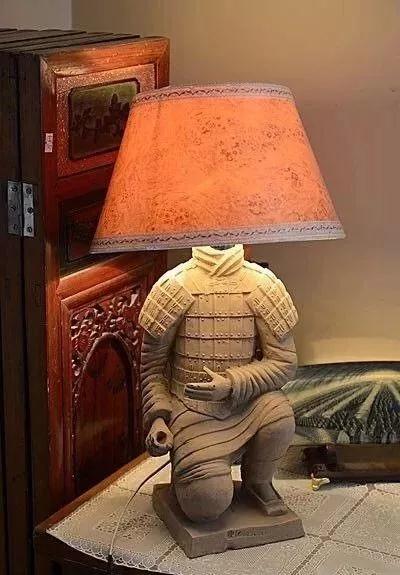 So here's the question, exactly how many of them are there in the room?!
Take the full view in the living room won't you?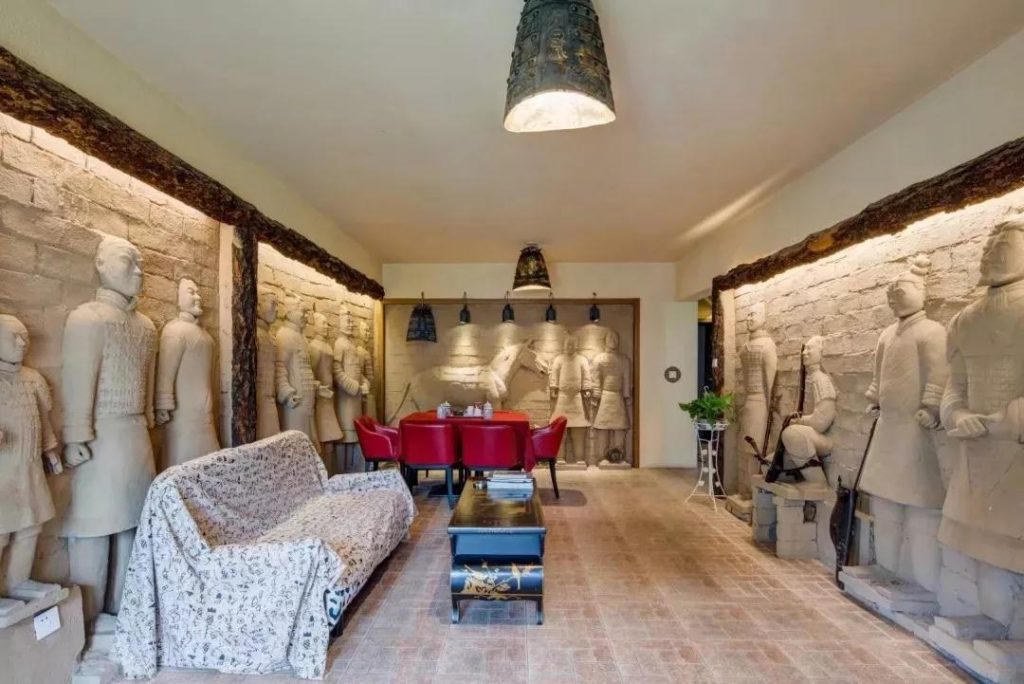 After the tour so far you might just want to chill in the bathroom and splash some fresh cold water on your face, only to discover…..
The great wall art right in your sight……you surely won't feel alone in the shower!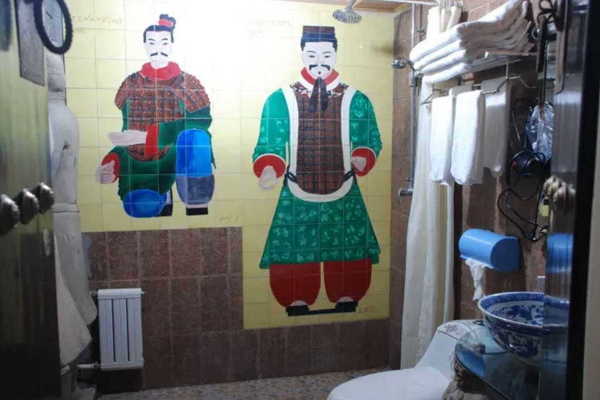 Best of all, you get these two staring right at you when you are doing your business…..look at it as per part of….cheer leading?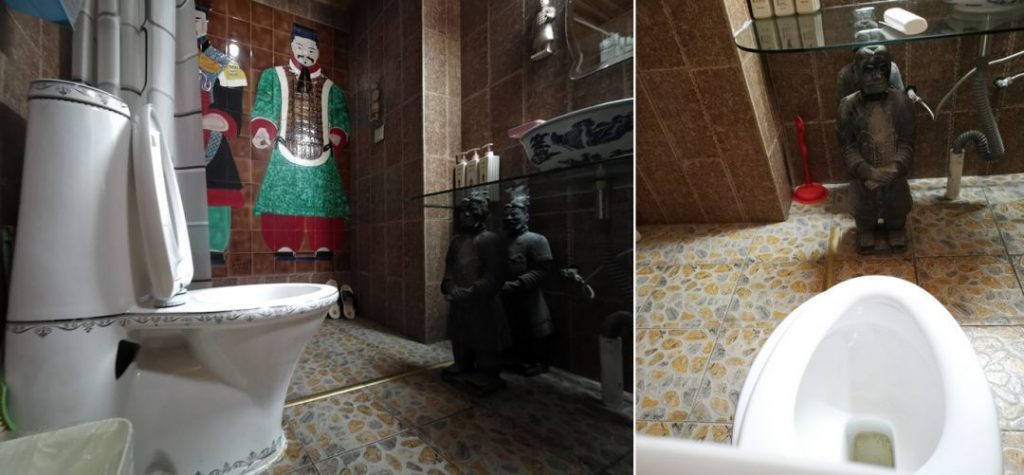 If you really can't sleep, just get up and go around in the room, you will find terracotta in various sizes at different places just like hide-and-seek game.
If you sleep with the lights on, you get to see lots of them standing right next to you…
If you sleep with lights off, then you get to feel them looking at you and guarding you in the dark…
If you sleep facing towards them, it might creeps you out but it feels even creepier by knowing they are at the back…
The owner of the hotel says the whole idea is to create an unique theme where customers could find themselves back to dynasty Qin again.
Okay, no joke, ever since this review being posted online, the hotel became famous and hotel manager happily mentioned they got fully booked almost at all times.
I think it is quite interesting to see them outside a museum for sure while we should always respect the actual terracotta and get to know the history behind it. It would be great to visit Te Papa if you have the chance to stop by Wellington this summer.
Will you stay in this hotel on your next visit in China?