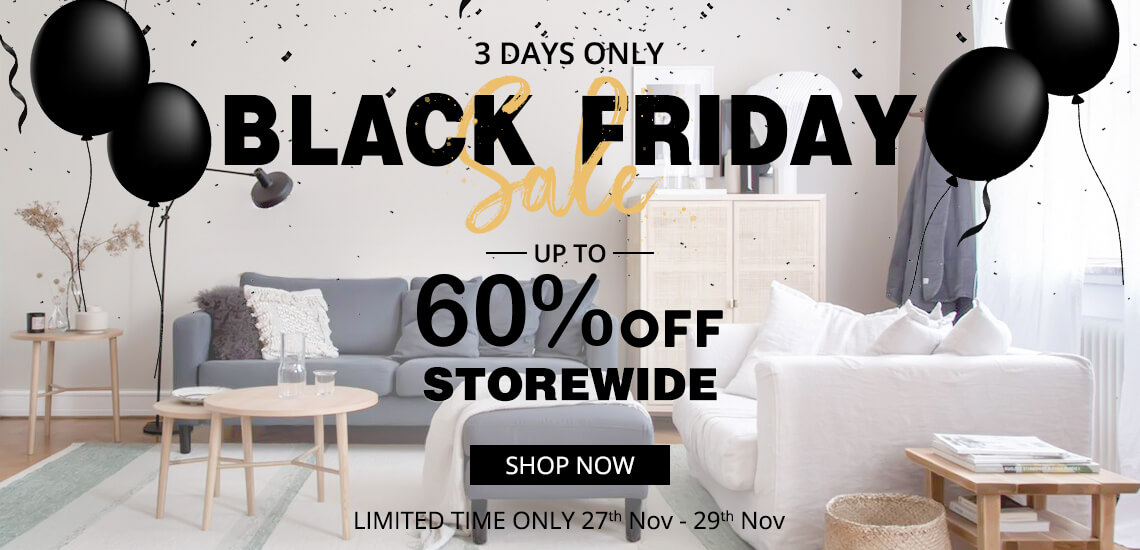 Come and get all ideal items with the best deal of the year! Up to 60% off Storewide on Black Friday Sale and Cyber Monday Sale. Clean out the items in your cart with this crazy-deals.
BRAM Bedside Table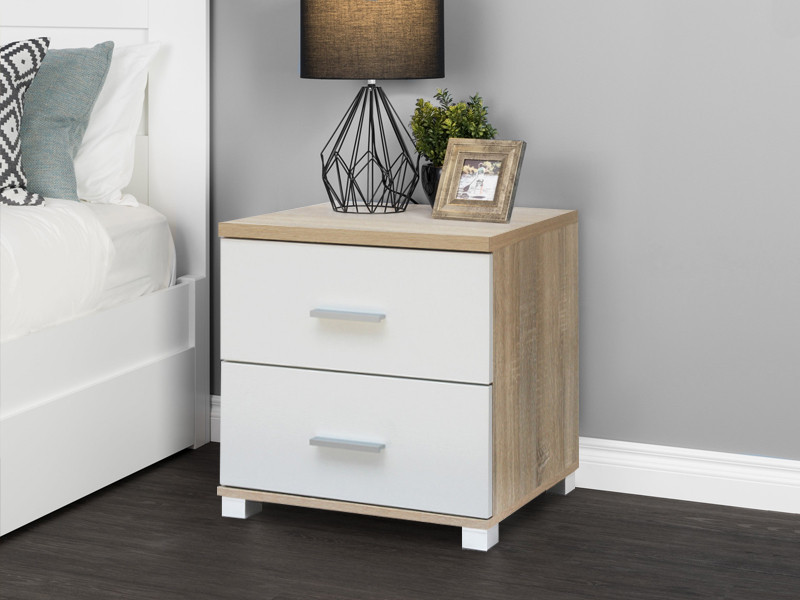 This BRAM Bedside Table is one of our BRAM products with clean lines and generous proportions which will be remarkably stylish and practical. The 2 Drawers and the tabletop offer enough space for your daily supplies. With this bedside table in your bedroom, you can keep your essential stuff within an arm's reach and can grab everything easily when you are lying on your bed.
BAKER SINGLE WOODEN BED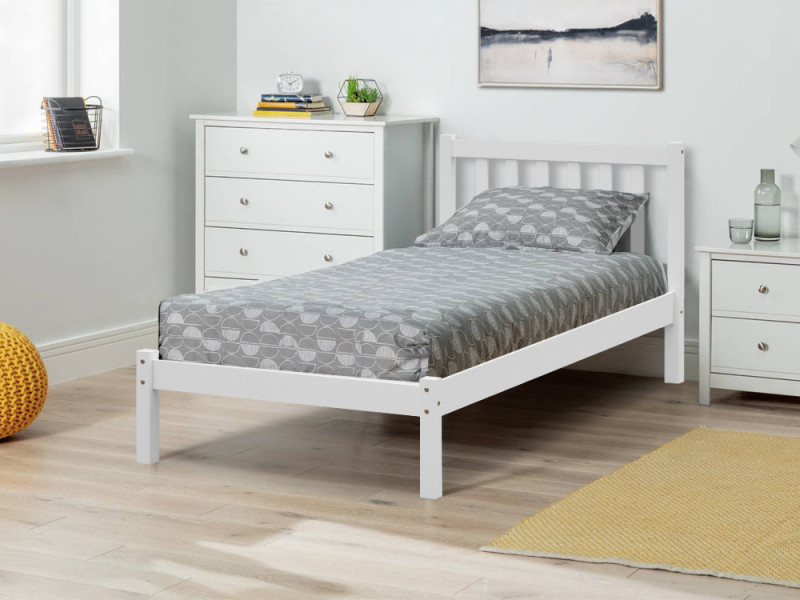 This BAKER Single Wooden Bed boasts of elegant contemporary style and is well made with solid natural pine wood in eco-friendly white paint which is easy coordination with any bedroom; while the solid slats that is sturdy and lasts longer for use and will provide great support for mattresses. It features a traditional slatted headboard and a low footboard which enhances the feeling of space available in a bedroom, especially those smaller bedrooms. The large room underneath the bed frame is spacious enough to stow away your plenty of boxes filled with bedding or other accessories. It will effortlessly blend into your bedroom space and will also match with most of your contemporary bedroom furniture pieces.
ANZER SINGLE TRUNDLE BED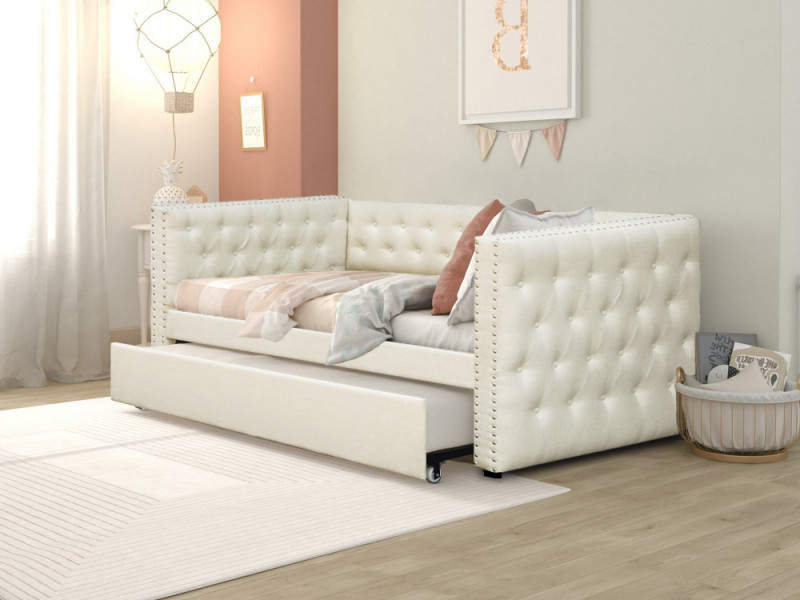 This ANZER Trundle Bed features a single bed frame with a pull out single trundler below. You can simply hide its lower bunker during the day time while having proper accommodation for 2 kids in the same room at night and it is also the perfect solution for extra guests and sleepovers. Our ANZER Trundle Bed is made using low maintenance MDF with fixed slats that provides back support with excellent pressure distribution and doesn't need any box spring. Feature Polyester Fabric with an elegant tufted pattern on the backrest and the arms which will make it more charming.
KAI BAR STOOL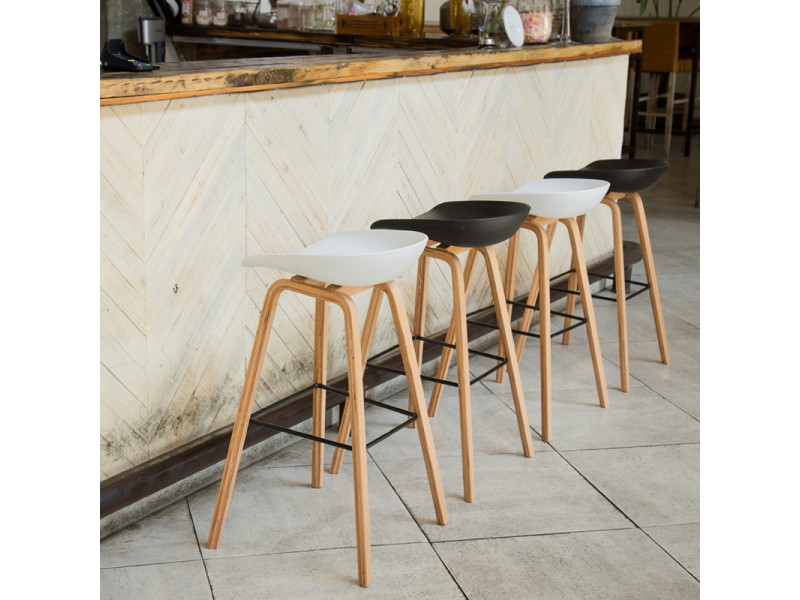 Blending classic timeless elements with smooth curve structure, this KAI bar stool brings modern minimalist style to any kitchen island, pub table, or home bar ensemble. Crafted of solid steel tube leg with wood grain print, the seat features ABS material, super-low backrest, while the seat is gently-curved for added comfort. Perfect for you to sit down with a morning cup of coffee or a glass of wine with a friend; little ones love them, too, as a perch for enjoying breakfast, completing homework, and more.
BRAM BEDROOM STORAGE PACKAGE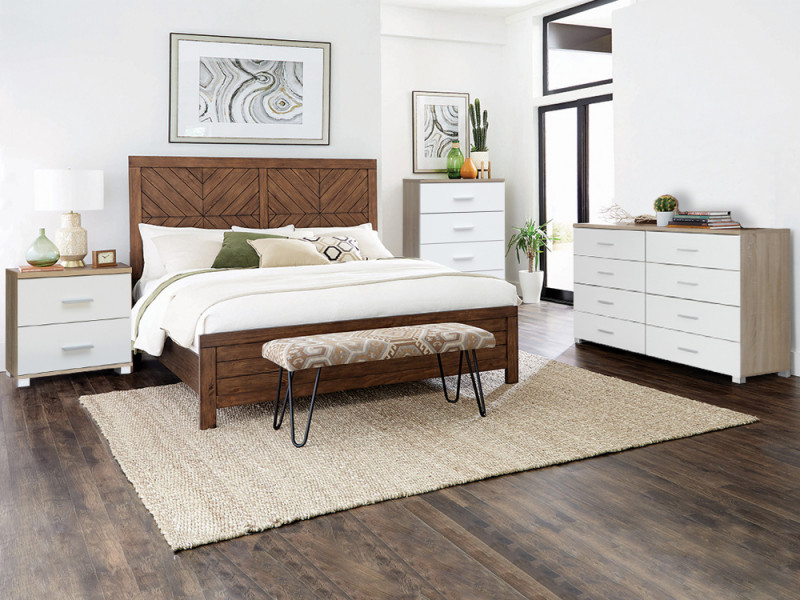 Our BRAM Bedroom Storage Package is the perfect addition for your bedroom which not only offer useful storage but also add a cool new look to your bedroom. This chic and stylish BRAM Bedroom Storage Package will give a whole new touch of style to your otherwise dull bedroom. To solve your bedroom storage problems, we create this bedroom storage package. This storage package will offer enough space for everything your master suite has to hod and it is the perfect package if you need further storage in any room of the house.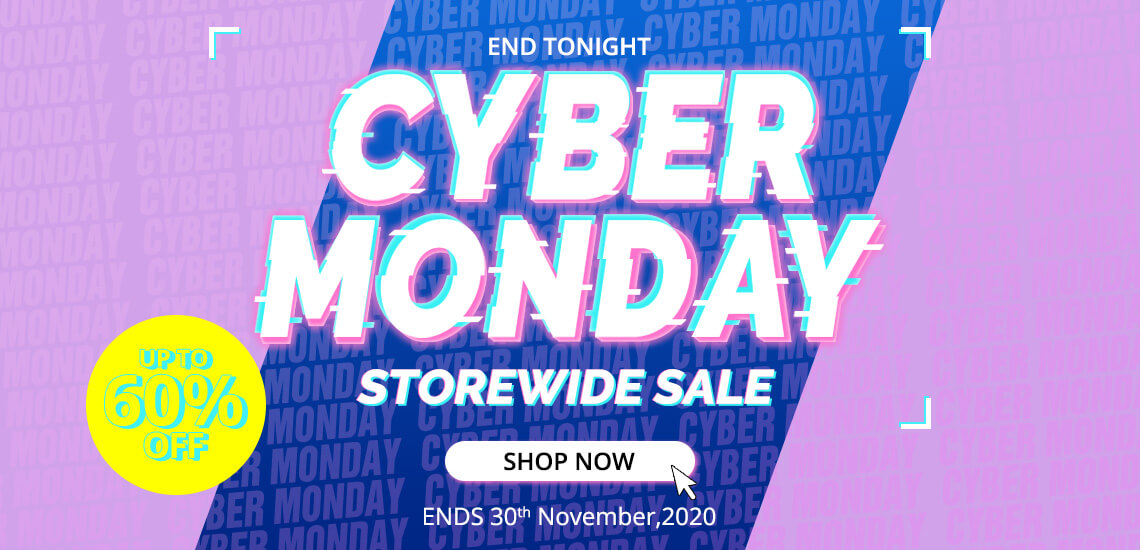 If you couldn't rush to purchase the items you are fond of on Black Friday Sale, don't worry about it. Here comes Cyber Monday Sale. Up to 60% off Storewide only one day and the last day of the best deal. Don't let yourself regret that you have purchased nothing in this amazing deal!
OCALA BEDSIDE TABLE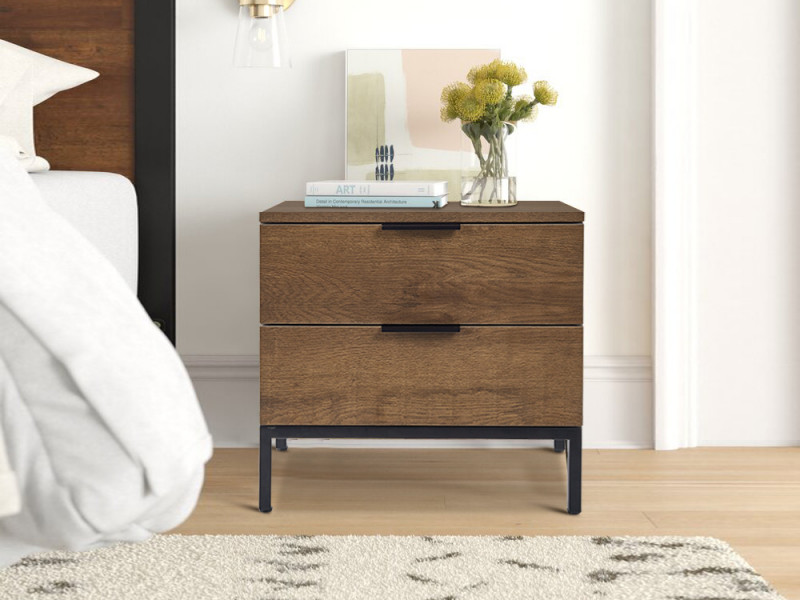 This OCALA Bedside Table is one of our OCALA range products which will be a perfect addition to your bedroom and suits any modern or rustic décor perfectly. Made of high quality MDF board with black metal accents, this bedside table is sturdy and durable for years of service; the 2 drawers provide ample space to stow away your phones, books, photo frames etc. and keep everything hidden; while the black alloy handles and smooth drawers with metal runners make it a pleasure to use.
GLORIA SHOE RACK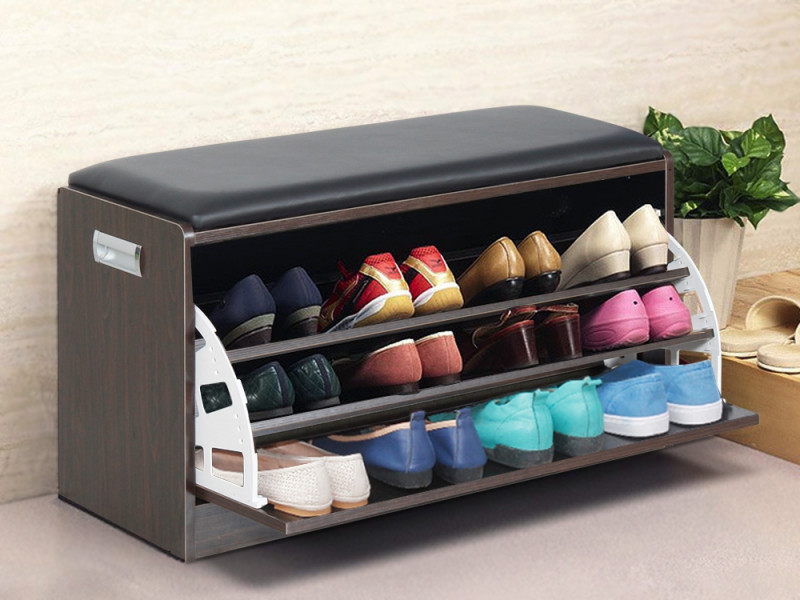 This shoe rack ottoman makes a perfect wooden storage cabinet for your home. It comes with PU leather mat covered top and adds a unique style to any space in your home while serving the storage needs to perfection. It can help you to organize your shoes and can also be used as an entryway seat in your house. Its contemporary and elegant design has no substitute and can take your home décor to the next level.
EIGER KING BED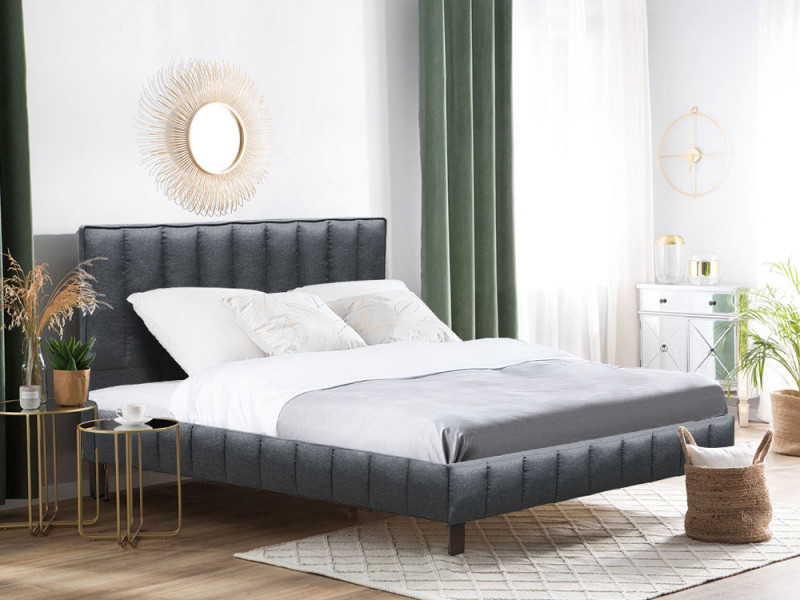 This EIGER Bed is crafted with flexible bendy slats and support struts that help distribute body weight evenly throughout the ensemble; while a deep padded design of the headboard with delicate stitching that will provide great support for relaxing back rest when you watching TV or reading a book in bed. The frame has matching studding detailing for a all round great look and makes your bedroom in a gorgeous look. This bed is upholstered with neutral grey fabric that will easily fit into any bedroom decor; while the trendy legs complete the timeless look of this comfortable masterpiece.
MAGNOLIA DRESSING TABLE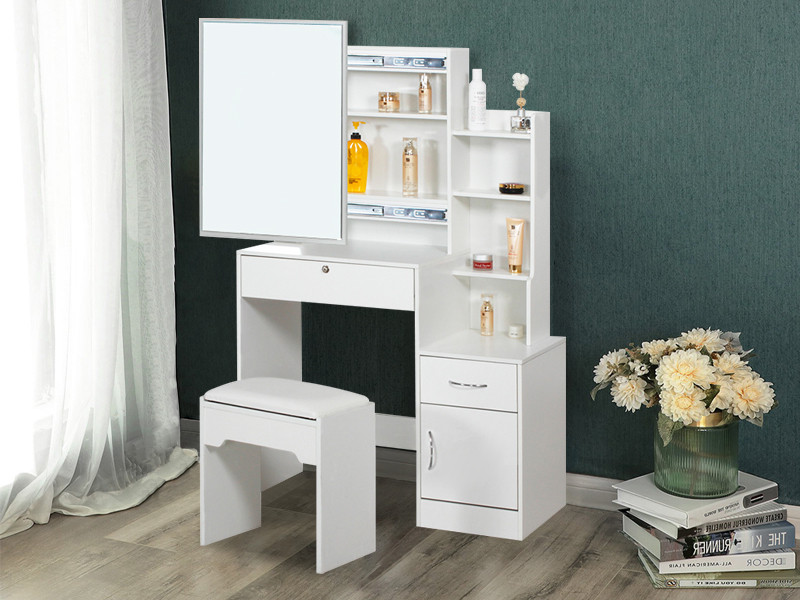 Made of high quality particle board, this dressing table is built sturdy and durable. It boasts of a sliding mirror with easy glide metal drawer runner to displace it. Behind the sliding mirror lie several hidden storage shelves that offer ample storage space to keep your personal essentials. Besides, the dressing table also offers 2 spacious drawers and 1 cabinet where you can store makeup, perfumes, and hair tools in a properly organized manner. You can also use the 3 tier open shelves to keep your cosmetics and fashion accessories in order. It also comes with a cushioned bench which will provide a comfortable seat when you do your make up.
ALTON BEDROOM STORAGE PACKAGE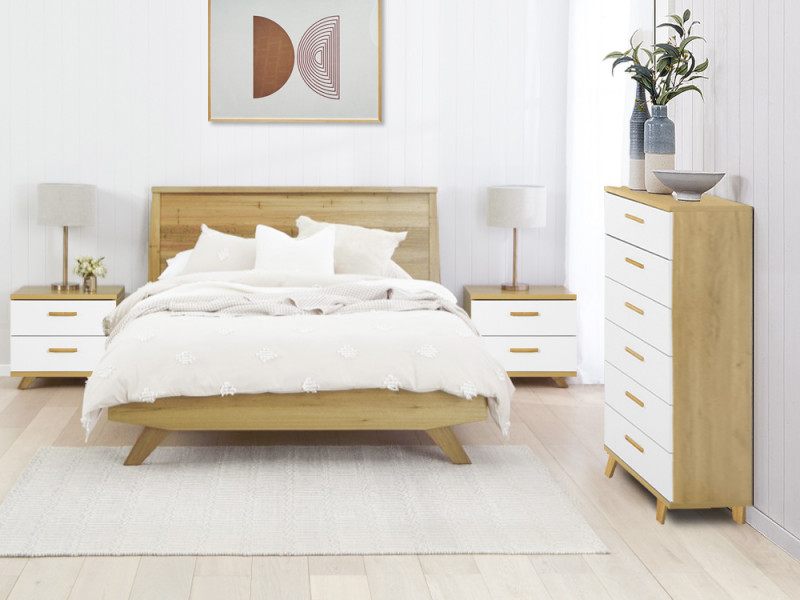 Our ALTON Bedroom Storage Package has a thoroughly modern decorative style with timeless scandi style legs that make your room unique and comfortable. The warm colour is complemented by the wooden handles that enhance the wood feel to your home. We create this bedroom storage package to solve your bedroom storage problems. Add extra storage with our ALTON Bedroom Storage Package to keep your bedroom organised.
The best annual deal is on Treasurebox now! Select your favourite items and bring happiness to your home.