Dog Crate Buying Guide – What Dog Crate Size Do I Need?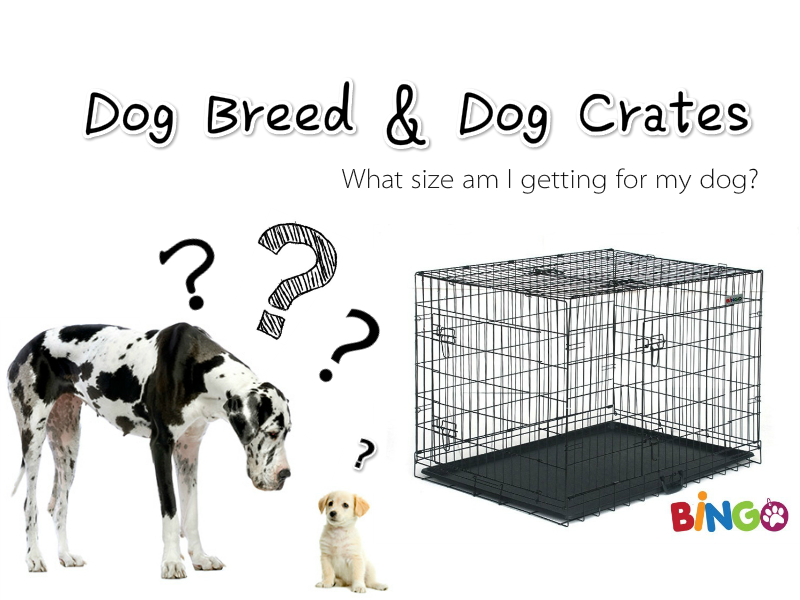 While there are so many good reasons to have a dog crate but often, we are stucked on the question of "which size of the dog crates should I get for my dog?"
I've had this question when I bought one of our dog crates and we've had so many similar questions over the years. Since I am very confident with our crates and since we've had BINGO Dog Crates for so many years now with all common sizes available, it is a great chance to talk about what size of these BINGO Dog Crates you should be getting for your beloved dog?
Before we go into the topic, let's make sure we understand below points as an introduction:
 Always choose a dog crate size according to your dog's fully grown adult body size – not puppy size even when you are getting a crate while he's still a puppy.
Don't force your dog to get into a crate especially when it is just freshly introduced.
No crate would be suitable for any dog (especially larger breeds) that is prone to escape or just gets too anxious in one.
Always make sure your dog is allowed to sit in the crate comfortably without his or her head bumping to the crate and they should never have to 'try to fit into a crate'.
Make sure they are able to turn around in a crate easily and they are able to lay down and stretch their legs freely – you could definitely tell if they are not comfortable!
how to measure your dog
There are 2 main ways to measure your dog, the official way: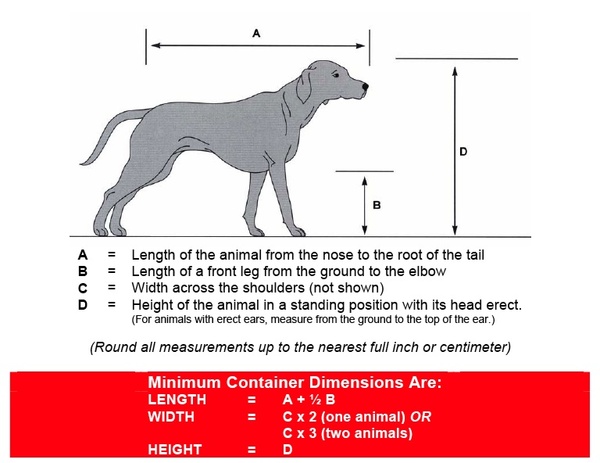 While this is more official and it is recommended by airlines, I do prefer the easier way – since we are not choosing a dog crate to go on a plane right?
The easier way to measure you dog is to still find out 2 figures, both A and B: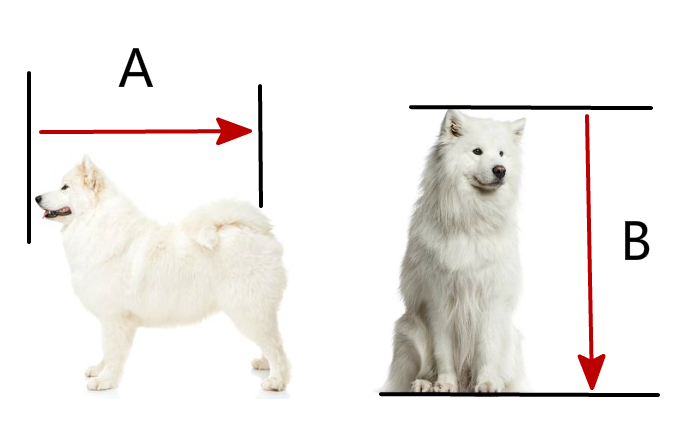 A being the measurement between nose and the base of your dog's tail; B being measurement of their height when they sit down in an upright position.
So the minimum length and height of the crate you required would be
A + 5 to 10cm and B + 5 to 10cm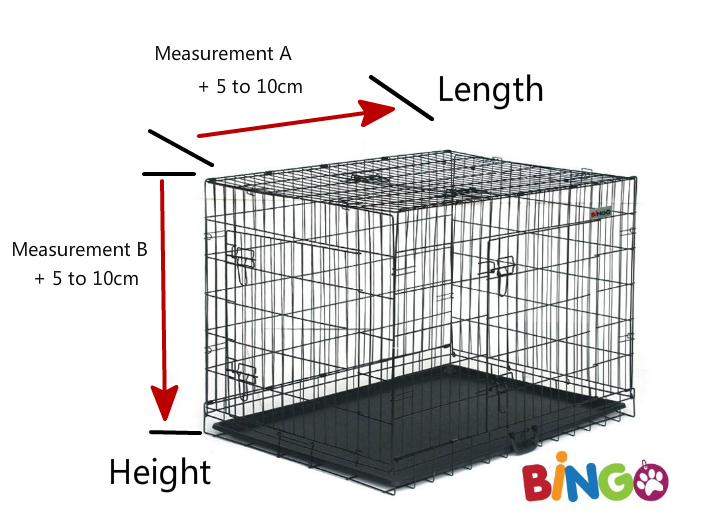 Here is the list of common breeds versus recommended dog crate size from smallest 24″ dog crate to largest 42″ dog crate.
dog crate size vs dog weight
Although it would still be the best to refer to dog size measurement to find out the best suitable crate size for your dog, we may sometimes be able to recommend crate size according to their approximate weight:
| | |
| --- | --- |
| Approximate Dog Weight | Recommended Crate Size |
| Under 11kg (~25lbs) | 18" – 22" (~ 45cm – 56cm) |
| Under 14kg (~30lbs) | 24" (~61cm) |
| Under 18kg (~40lbs) | 30" (~76cm) |
| Under 31kg (~70lbs) | 36" (~91cm) |
| Under 40kg (~90lbs) | 42" (~107cm) |
| Under 50kg (~110lbs) | 48" (~122cm) |

24″ Dog crate-suitable for smaller breeds Often being referred as size small, dimensions being 60 x 46 x 53cm, and it is recommended crate size for:
Affenpinscher
Australian Terrier
Bichon Frise
Border Terrier
Boston Terrier
Fox Terrier Terrier
Havanese
Jack Russel
Miniature Dachshund
Miniature Poodle
Maltese
Scottish Terrier
Silky Terrier
Toy Poodle
Pug
Shih Tzu
Yorkie Poo
30″ Dog crate – suitable for medium breeds Often being referred as size medium, dimensions being 76 x 53 x 61cm, and it is recommended crate size for:
American Pit Bull Terrier
Basenji
Cairn Terrier
Cockapoo
Cavalier King Charles Spaniel
Cocker Spaniel
Cardigan Welsh Corgi
Dachshund
French Bulldog
Irish Terrier
Lhasa Apso
Miniature Pinscher
Miniature Schnauzer
Shetland Sheepdog
Scottish Terrier
Tibetan Terrier
Welsh Springer Spaniel
Welsh Terrier
West Highland Terrier
36″ Dog crate – suitable for Medium-Large breeds Often being referred as size large, dimensions being  91 x 61 x 71cm, and it is recommended crate size for:
Australian Cattle Dog
American Eskimo
Beagle
Basset Hound
Belgian Sheepdog
Bulldog
Brittany Spaniel
Bull Terrier
Chinese Shar-Pei
English Springer Spaniel
English Setter
Finnish Spitz
Harrier
Keeshond
Norwegian Elk hound
Portuguese Water Dog
Soft Coated Wheaten Terrier
Standard Schnauzer
Welsh Corgi
Whippet
42″ Dog crate – suitable for Larger breeds Often being referred as size extra large XL dog crate, dimensions being  107 x 71 x 81cm, and it is recommended crate size for:
Airedale Terrier
American Bulldog
Australian Shepherd
Aussiedoodle
Bearded Collie
Belgain Malinois
Belgian Tervuren
Border Collie
Bernedoodle
Boxer
Chesapeake Bay Retriever
Clumber Spaniel
Chow-Chow
Dalmatian
Doberman Pinscher
Goldendoodle
Golden Retriever
Irish Setter
Labrador Retriever
Pharaoh Hound
Siberian Husky
Schnoodle
Standard Poodle
Sheepadoodle
48″ Dog crate – suitable for giant breeds Often being referred as size extra extra large XXL dog crate, dimensions being  122 x 78 x 88cm, and it is recommended crate size for:
Afghan
Alaskan Malamute
Anatolian Shepherd
Bernese Mountain Dog
Bloodhound
Belgian Malinois
Briard
Bull mastiff
Belgian Tervuren
Collie
Doberman Pinscher
Giant Schnauzer
Gordon Setter
German Shepherd
Greyhound
Irish Wolfhound
Kuvasz
Komondor
Neapolitan Mastiff
Newfoundland
Old English Sheepdog
Otter hound
Pointer
Rottweiler
St. Bernard
Samoyed
Siberian Husky
Weimaraner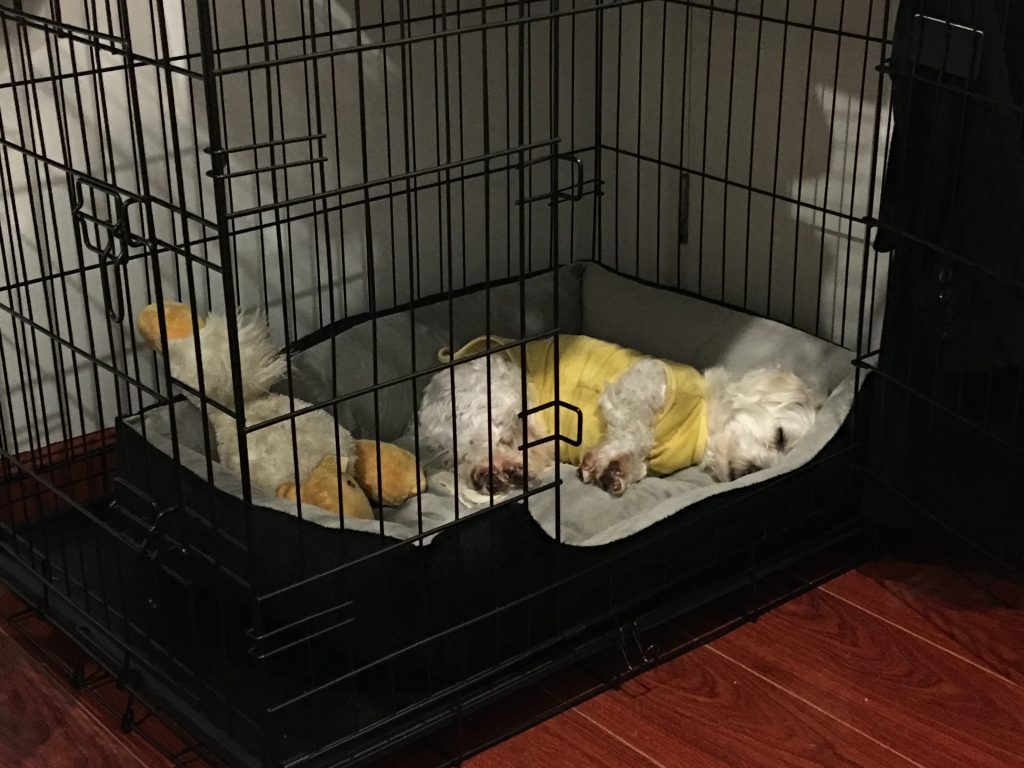 Well, yeah…I am sure you could easily tell I bought a dog crate at a much bigger size than what my dog needs. I have a Maltese and this is a 42″ XL BINGO Dog Crate for him. Hmmm…I had a good reason though as I wanted something to fit this large plush dog bed, his toys and his water bowl on the side, so I needed a dog crate with much greater length than measurement A we talked about above.
He really liked it as you could see I normally just left latched door open and he wouldn't wanna get out at all. He was a such a good boy and just simply enjoyed his own space without me experiencing any harsh moment with introducing something new.