Is it time for you to declutter your life? Maybe you live in a small home and storage space is limited. You're dying to have a bedroom that feels cozy and comfortable, but you seem to be stuck in the world of cramped and cluttered instead. We will help you clean up the clutter and organise your hoarding by using our great products that works for your space.
1.CHARLES Fabric California King Split Bed Base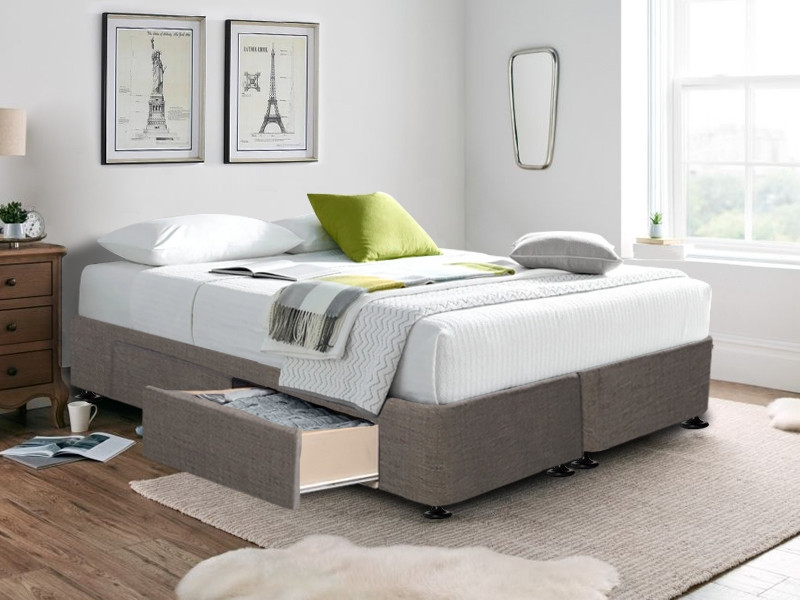 If you need extra storage space in your bedroom then CHARLES Fabric 4 Drawers Bed Base is definitely worth picking!
Showcasing detailed stitching for a tailored touch, this bed base uses high-density foam and comes enveloped in polyester upholstery to offer enhanced comfort. Its sturdy wooden bed frame with solid legs offers proper support on each corner. It is completely NZ manufactured and meets the highest quality standards. Featuring 4 drawers, this storage bed base boasts of high-quality fabric and would bring warmth to your space. You also get a convenient storage solution to reduce clutter in your bedroom.
The split bed design of this bed base allows both the partners to pick their unique comfort mattress and effectively reduces partner disturbance by minimizing motion transfer. The sturdy wooden frame provides a great foundation for your bed, ensuring long-lasting performance and extending the lifetime of your mattress by acting as a support to absorb all the shocks and stress. Besides, the customized legs provide 8 – 15cm of clearance for under-bed storage too. With its nice and simple design, it can also be used with all sorts of headboard styles. This NZ-made stylish bed base not just offers quality but also adds function to your bedroom space with spacious storage drawers.
2.GAVIN Wooden Bedside Table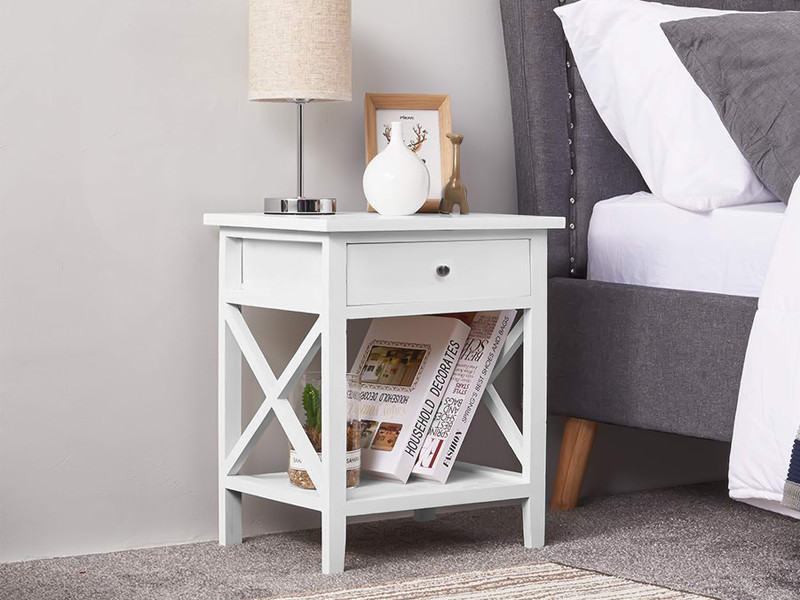 If you are looking for a classic bedside table then this one from GAVIN is tailor made for you! This clean-lined bedside table brings a bit of mid-century flair to your bedroom.
Made of high quality MDF board, this GAVIN Bedside Table is sturdy and durable for long time use; while the x-shaped side panels bring a contemporary look; come with 1 drawer with stainless steel handle offer deep storage space to stow away your makeups, phones, books, bags, photo frames etc. and keep everything hidden; while the bottom shelf can also be used to display some attractive art pieces in the bedroom and the large flat top offers great space to perch your lamps, alarm clocks and other accessories. You will love this classic bedside table for its aesthetic appeal and the storage options it offers.
3.QUINN Wooden Bedside Table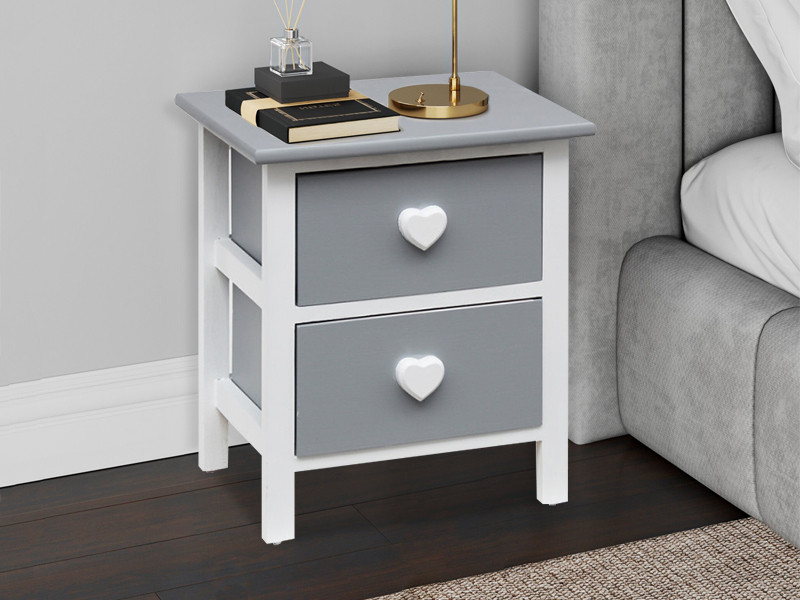 Give your bedside essentials a cozy landing spot with this stylish QUINN Bedside Table and make a great addition to your bedroom.
This QUINN Bedside Table is made of high quality MDF board and paulownia wood which is sturdy and durable for long time use; come with 2 drawers that provide ample storage space for storing bedtime essentials and the heart shaped handles add a loving touch and charming addition to your bedroom; while the large table top offers great space to perch your lamps, alarm clocks and other accessories. Simple straight lines make it a wonderful bedside table that will easily blend into any bedroom decor.
4.FROHNA Tallboy 4 Drawer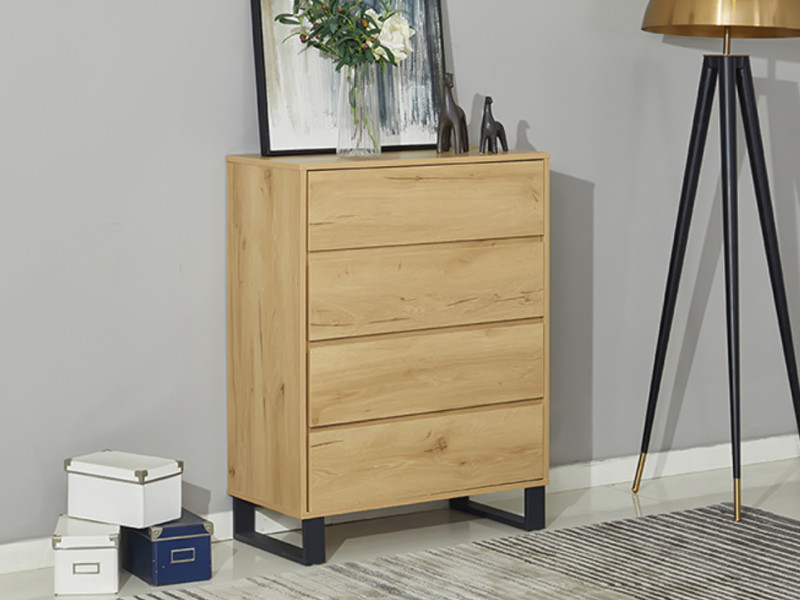 The FROHNA range offer natural tones with a crisp black frame that provides an elegant chic design to your room and brings an impressive and contemporary style of your home. The FROHNA range currently includes a Bookshelf, 2 Buffet Tables, a Tallboy, an Entertainment Unit, a Side Table, a Coffee Table, a Bedside Table and a Dining Table.
This FROHNA 4 Drawers Tallboy is one of our FROHNA range products with a simple and modern style look makes a great décor for home. Crafted from quality wood with black metal accents, this tallboy is sturdy and durable for years of service. It will solve all your storage problems too as you can put different types of items in its spacious sliding drawers and keep them hidden in plain sight.
With the entire FROHNA range, you can complete your living room decor and carry this style throughout to furnish your dining room and home office. This range would create a cohesive look and feel for your space and will add a contemporary style to your home.
5.BRAM Low Boy 8 Drawer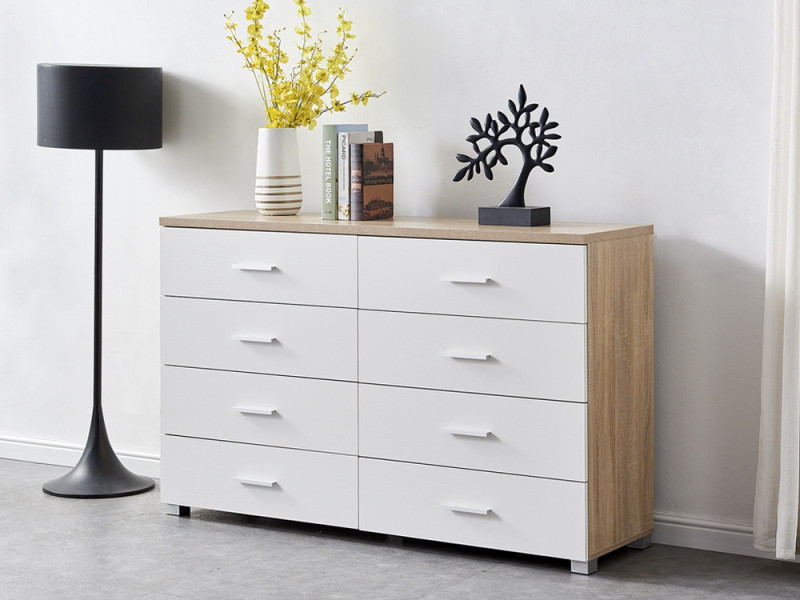 Are you looking for a stylish lowboy dresser that doesn't only help you to store your items but can also add a cool new look to your bedroom too?
This Bram 8 drawers low boy is a must-have for your busy bedroom. This simple and chic furniture piece is made with synthetic wood and sparks a new touch of style into your dull bedroom. It will solve all your bedroom storage problems too as you can put different types of items in its spacious sliding drawers and keep them hidden in plain sight.
The drawers can also be used as clothing storage to tidy up the room a little. Besides, it will also make your living space more streamlined and beautiful courtesy its contemporary design.
6.HALLE 3 Door Wardrobe Cabinet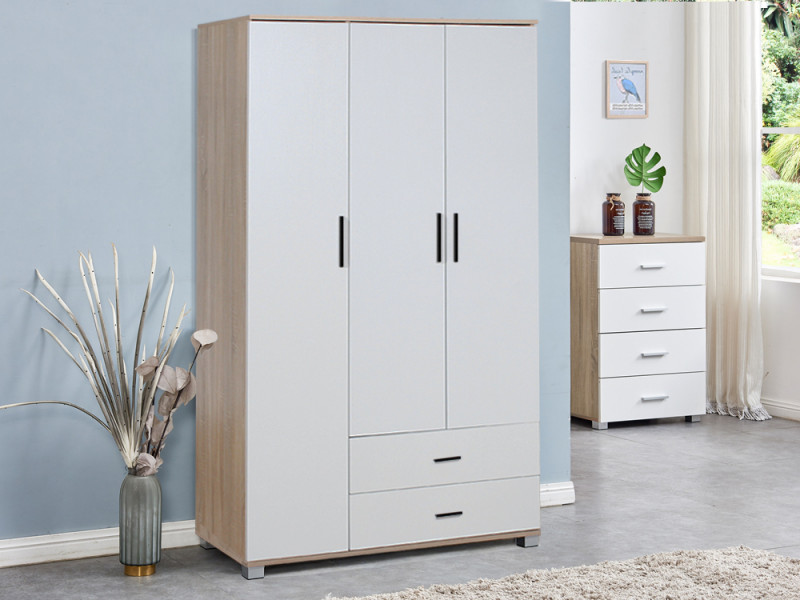 Storage space in your bedroom always seems to be at a premium! Have a feeling that you really need a wardrobe for all your clothing? Well, with limited space, you just can't go for something too big.
Don't worry! This HALLE 3 Door Wardrobe is here to help. The sleek and simple outline allows this wonderful piece of furniture to blend seamlessly into any bedroom space. Besides, it is built sturdy with 15mm particle board and boasts of a fine melamine construction for smooth finish. It is pretty easy to clean and maintain as well.
This wardrobe features two doors that open to reveal a closet with a hanging rod included. This section is just perfect for stashing away all your clothes that you don't want wrinkled. There is also a third door as well that comes with 4-shelves for your foldable clothes, T-shirts and pants. In addition, there are a couple of drawers underneath as well to offer even more room.
7.CHIUTA 4 Tier Ladder Shelf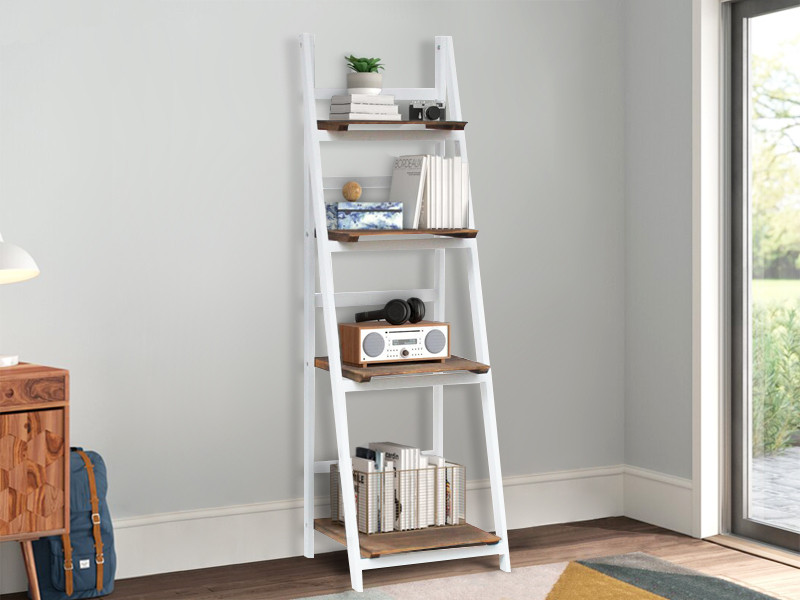 Do you need more storage space to showcase your favourite items? This CHIUTA Ladder Shelf is definitely your ideal option to your living room, bedroom, dining room, lounge and balcony.
This CHIUTA Ladder Shelf with clean lines are perfect for the most modern décor; features 4 open shelves that provide ample storage space to display your favourite reads, plants and other decorative items; while the foldable design allows you to store it easily; made of high quality paulownia wood and white painted frame which is sturdy and durable for long time use. Easily update your living space with this ladder shelf in your room to solve your decorating and storage needs.
8.HEKLA Queen Bedroom Furniture Package 4PCS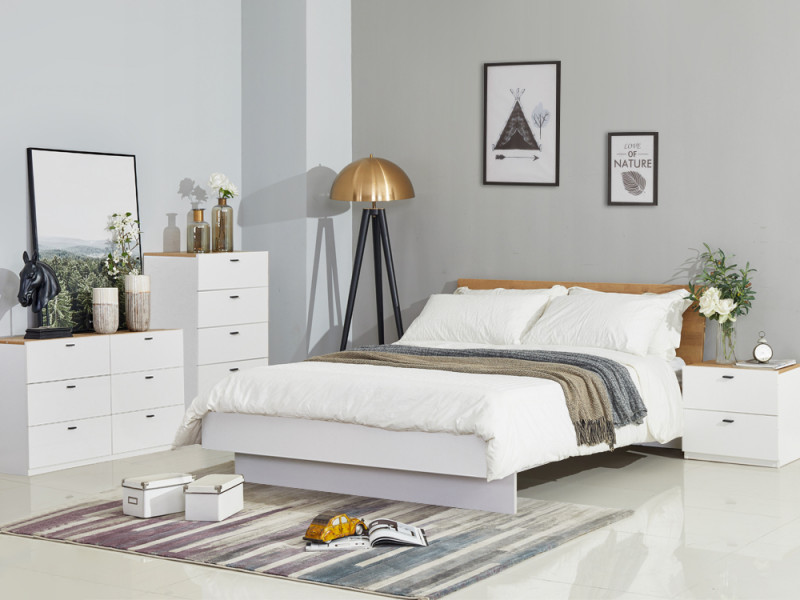 Our HEKLA Bedroom Furniture Package is a flawless addition to any bedroom. Featuring natural variations in wood tone and grain, the HEKLA bedroom furniture package brings contemporary look design to your bedroom. This is the perfect package if you need further storage in any room of the house. This package includes:
1 x HEKLA Wooden QUEEN Bed Frame
1 x HEKLA Wooden 6 Drawer Low Boy
1 x HEKLA Wooden 5 Drawers Tallboy
1 x HEKLA Wooden Bedside Table
Made with high-quality wood, this HEKLA Bedroom Furniture Package is sturdy and durable for years of service and will make a statement in your bedroom while acting as a perfect storage solution. Each piece is distinctive all on its own while has a cohesive construction and look overall. This HEKLA package would be perfect for a wide range of décor styles and will bring more modern charms to your bedroom.
Once you've organised your space you'll find that you immediately feel de-stressed. Making for a great night's sleep every night and ensuring that spending time indoors is enjoyable. Shop on Treasurbox now to discovering all our great bedroom products to keep your room organise.